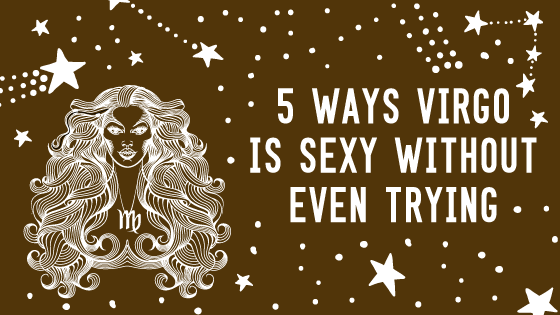 I can hear the response already:  "What?  Virgo sexy?  You've got to be kidding."  But I'm not.  Prepare to be shocked as you discover why.
If you're a Virgo type, you probably already know that some Virgo habits are viewed by potential partners as un-sexy.  For example, have you ever been called "picky," "fastidious," "perfectionist" or even the dreaded "nag?"  Even these traits, when viewed in the right way, can be completely sexy.  Here's how:
Virgo, you're sexy because you're clean
And what's not to like about that?  Sure, you demand that your partner be clean too, but that's not a bad thing.  Just don't get all OCD about it.  Be reasonable.  And allow them a space that's all their own, to have as messy as they want to.  Then take a space for yourself, in which you can play with order and chaos in the rhythm that feels right to you.  And find balance in the areas you and your partner share.
Virgo, you're independent–and that's sexy
The definition of a virgin in ancient times was "an independent woman, an unmarried woman, a woman complete unto herself."  Obviously, not all Virgos are female but the truth is, Virgos of both genders don't really need anyone else.  This actually gives you a huge advantage in the relationship arena—you don't appear desperate.
It's sexy to be a perfectionist
Sure, you want the perfect partner.  But you also want to be the perfect you.  To those who relate with you, it appears as if all the judgment is directed outwardly.  But if they could get inside your head, they'd quickly realize that even more judgment is self-directed.  Ten times more.  This means a Virgo is self-maintaining.  Who wouldn't want to be with a person who is always striving to improve themselves?
Virgo is the virgin, right?
As a Virgo, you have a God-given ability to restore your virginity.  This is a conceptual, not a literal thing.  It's in your mind (and as you probably know, the brain is the largest sex organ).  You can conceptually restore your virginity anytime you decide to close up your boundary.  You know exactly what I'm talking about, don't you?  Don't live with your boundary closed, Virgo, because when you open up to love again, it can be entirely fresh and new for you.  Just like the first time, only better and better as the years pass and you get more comfortable with your body and its appetites.
As I've been saying Virgo, you have boundaries
You know where all the lines are.  This means that transgression really means something to you.  When Virgo lets her hair down, she really lets it down.  There's no one more lapsed than a lapsed Catholic and there's no one who understands sheer kinkiness than a person who is hyper-aware of impropriety.  You get where I'm going with this?  Absolutely nobody misbehaves better than Virgo.
Now it begins to make sense how some people fantasize about nurses and like to "play doctor."  Virgo has inherent hotness all her own.
Love yourself, sexy Virgo!  Put those perfectionist tendencies to work on learning to relax, and to relish your body and your life.  Because maybe—just maybe—you are already completely perfect.
Find out more about getting a reading
Or see what kinds of readings are available. 
Birthday Gift for you: 
If your birthday is approaching or recent 
and you want an empowering look at the year ahead, click to
schedule a Birthday Reading and receive a free gift with it.