Mercury Retrograde in Virgo
August 30 to September 21, 2016
from 29º to 14º Virgo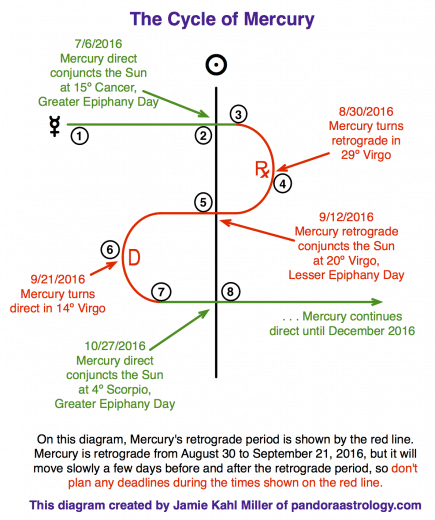 Virgo is the sign of self-improvement, personal organization, and service. Since Mercury is at home in its traditional rulership of Virgo, this retrograde period may force awareness of the necessity of cleaning, tidying, organizing and purging. Oddly, individuals with strong natal Virgo might secretly enjoy all this despite how it can wreak havoc in all types of order and routines. You know the expression 'the Devil is in the details'? Well during Mercury's retrograde in Virgo, the Devil is the details. And it might be a Tasmanian Devil.
Your schedule might as well be put through a paper shredder but despite the chaos, there are constructive ways to evaluate your personal organization systems so that you can make them stronger after the retrogradation. How can you structure your routines so that you get the most out of them? What types of routines should you adopt for self-improvement in the areas that you know are falling short, (possibly diet, health and exercise)?
Since the school year is beginning, the effort of starting off the semester in an organized way may be hijacked by Mercury's retrograde. If you have children in school, then getting them ready and buying them all the necessary supplies for the year may be a greater challenge than usual. Start the process early. And if you are in school yourself, then you might want to take a trip down to the Container Store or Staples to strategize ways you can organize your desk and structure your study habits.
Virgo is the most analytical and critical sign of the Virgo. While Mercury is retrograde in this sign, your analytical and critical faculties may go haywire. When Mercury goes direct on September 22 things should begin to move more smoothly. You may have to wait out the retrograde period until the fog lifts, and then you can address things with greater clarity and structure.