Mercury Retrograde in Aquarius and Capricorn
January 5-25, 2016
from 1º Aquarius to 14º Capricorn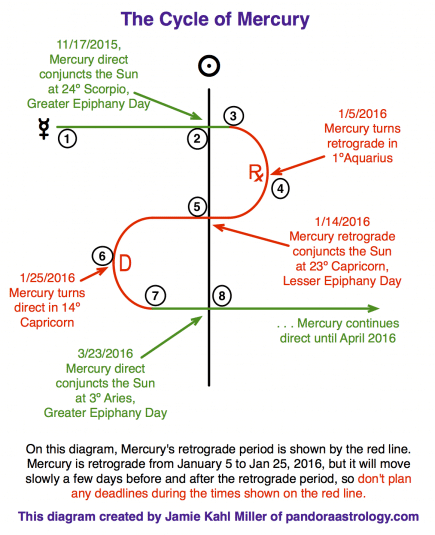 By turning retrograde in Aquarius, Mercury is telling you to reevaluate your social connections.  As Mercury quickly backs up into Capricorn, you may be judging your networks, friendships and acquaintanceships by a tougher standard:  how much value do these social support systems add to your career?  Do these people support your ambitions or distract you from them? Mercury may also be asking you to check your reputation in your social circles: do you have the fame you want to have, or do you have notoriety or are you an unknown? Perhaps revisiting your standards of excellence could solve the problem.
As Mercury continues backing up into Capricorn, status, public reputation and vocation will be predominant themes.  This may not be the best time to move forward in these areas, but to evaluate whether you are effectively following your true calling.  Is your current job somewhere on the arc of your mission in life?  If you are lucky enough to say yes, then use this time to strategize how you can further yourself in this direction over the coming year.  Are there beneficial changes you can make in how you present yourself publically?  What practical steps can you take to advance yourself?
Mercury retrograde in Capricorn is also a great time to clean up communications between yourself and those you work with, whether they are above, below or on a level with you.  Ask yourself how you can improve work conditions for everyone by how you clean up old miscommunications.  This is also a wonderful time to rethink the systems that help you stay organized on the job—are there more effective ways of working that you could implement, making everyone's job go more smoothly? And it might be time to reevaluate your goal-setting and project management processes so that the people around you can get what they need to know to move forward.